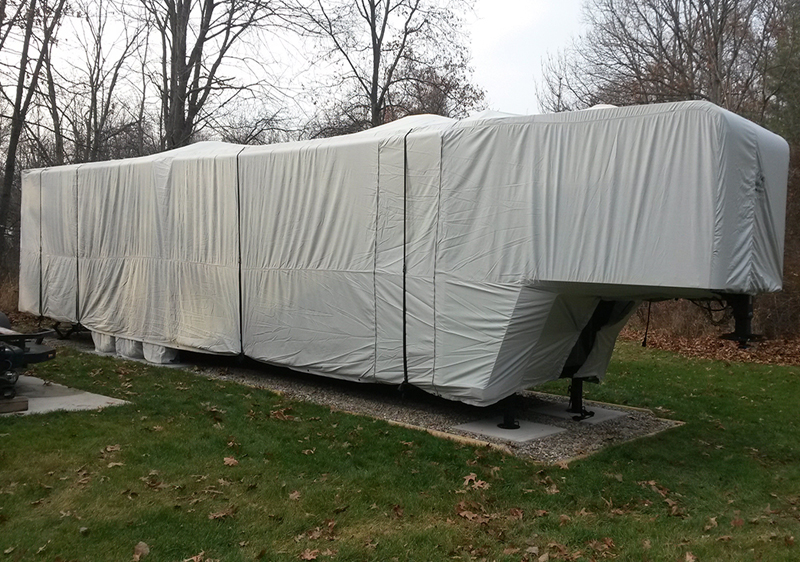 Each Horse Trailer cover from Calmark Cover Company is made to order – cut to fit the exact length, width and height of your Horse Trailer. It comes with a custom zipper door for easy access and our FSR construction and friction reducer tie straps – AND our exclusive new feature, the "Quick and Easy Tie Down System".
Made to order with Sunbrella® with a FULL 6-YEAR WARRANTY!
NOTE: To assure that your Horse Trailer Cover is fabricated correctly to the exact length, width and height of your RV, we request that you physically measure the dimensions shown on the two diagrams below.
PLEASE DO NOT USE MANUFACTURERS SPECS.
All CalMark RV covers are breathable, water resistant, non-abrasive and mildew and dry rot resistant.
*Any pictures or photos represented on this site do not necessarily indicate actual color of cover material.
ICE Products: Safety-focused Equine Gear
We're trail riders and horse campers who see the need for better emergency preparedness, whether you and your horses or mules are at home, at the boarding stable, or out trailblazing.
Being pro-active and prepared for the unthinkable is the key to making the best of an emergency situation.
Putting identification on your equine is the responsible thing to do.
I.C.E. Products USA is proud to provide you with American made safety-focused equine identification gear that will help protect (and reunite you with) your beloved animals.
Visit our friends at www.iceproducts.net