Summer, what better time to be travelling, or taking a holiday abroad. You may only be staying local for your vacations. It doesn't matter. Because each holiday is the same in regards to the fact that you need to be prepared for them. It doesn't matter if you're driving, going by train, cruise, or even if you have your own private jet. You need to make sure you have all your essentials with you. So that brings us to RVs, caravans, campervans and trailers. You're bringing your accommodation with you. So, how do you keep yourself safe in weather conditions you might not have prepared for? Well we will talk about that in this article, so read below for more information.
Best Travel Trailer Cover Summertime
Best Travel Trailer Cover Summertime
The summer heat can beat down on your travel trailer, causing UV rays to create high-heat build up on the surface, which can create seal damage and cause your interior to reach temperatures up to 144 degrees. If you buy slip on dust covers or single ply sided top covers you will have to replace them within the year due to the poor job they do at protecting your travel trailer. Slip-on dust covers cannot stand extreme temperatures and turn to shreds if you do not use your travel trailer for a period of time. Single ply sided top covers claim to protect your travel trailer against all elements, but do not do justice when it comes to summer.
The best travel trailer cover summertime use are from CalMark Covers. Our custom made travel trailer covers are made with Sunbrella fabrics and come with a full 6-year warranty. Travel trailer cover summertime are USA made with acrylic woven fabrics. Known to protect your travel trailer from all weather conditions world wide. It is the only fabric that is specifically designed for continuous outdoor sun exposure during the summer. It will hold up from what the hot summer's outdoor elements with throw at you, including the ultra violet exposure from the sun. Their textiles are made with close attention to design detail, and engineered with robust performance characteristics that provide resistance to fading and degradation from sunlight and chemical exposure. The fabric is tactile yet durable, has industry-leading environmental characteristics, is easy to care for and offers long life – wherever it's used.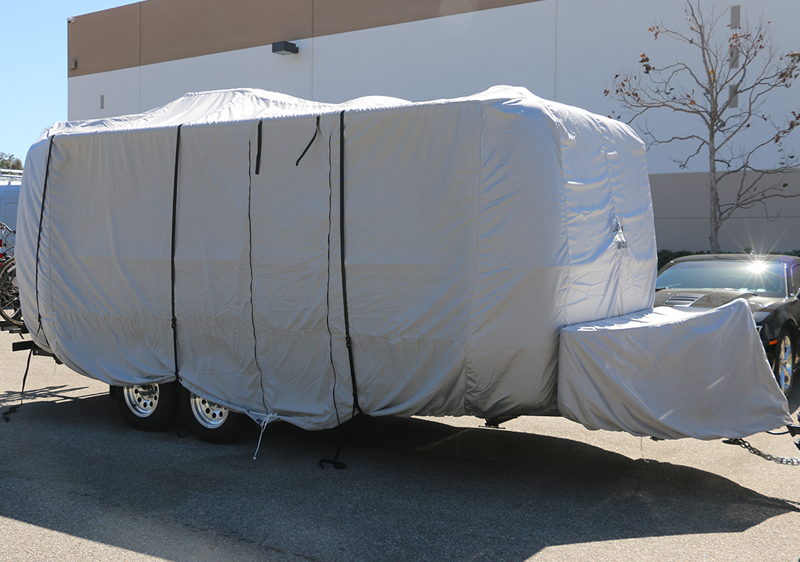 When considering buying the best travel trailer cover to protect your travel trailer, visit CalMark Covers at www.calmarkcovers.com. Where you can find a list of descriptions about each travel trailer cover that we can personally make custom to your needs. All CalMark travel trailer covers are breathable, water resistant, non-abrasive and mildew and dry rot resistant. They are cut to fit the exact length, width and height of your travel trailer and come with a custom zipper door for easy access and our FSR construction and friction reducer tie straps – AND our exclusive new feature, the "Quick and Easy Tie Down System". Get a free quote by filling out our fast quote form online.