Trailer Cover
It's your favorite time of the year, the week you get to finally use your Trailer again. You're ready to forget the stress of work life and set off onto the open road to show your family the calming of nature. As you go to pack your Trailer that's when you start to notice it doesn't have that same charm that made you so keen to purchasing it in the first place. UV degradation has already taken its toll. It's caused your paint to fade and crack, you can even see some of the underlying surface of metal and plastic. You step back a bit and there's where those bird noises have been coming from, your roof is covered with dirt and nests. You realize that you'll have to go on truck electrics and buy new trailer lights because yours have become chipped and faded. Here comes the stress you wanted the Trailer to take away but it's now only building upon it because you now know you should have invested in that Trailer Cover instead of having to fork out money on the washes, waxes, and roof repairs.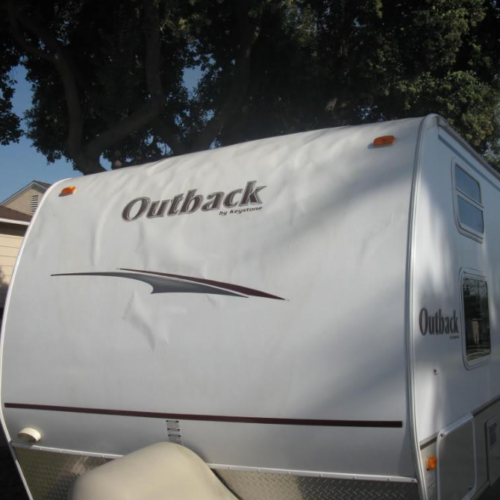 Trailer Cover Helps Protect
A Trailer cover helps to ensure that your RV is protected from the sun's ultra violet lights, which doesn't just destroy your paint but the underlying surfaces beneath, like the metal and plastic that composes your trailer. When your trailer is left unprotected your exterior is likely to deteriorate, but when you use a cover you are ensuring you do not suffer from seal damage. Also, you are protecting your RV from dirt that can build up and cause black streaks on your exterior.
Harsh weather, like rain and snow, can cause your trailer to experience a leaking roof. A leaking roof can build up mildew, this isn't only bad for your RV but horrible for you and your family to breathe in. Now that you've made the decision to go out and buy yourself a triple-layered Trailer cover, you have saved your trailer from the damages that may occur. A trailer cover allow moisture to evaporate so you no longer worry about water getting trapped under the cover and causing that mildew and leakage.
We offer a variety of covers for your type and size of trailer. All our covers are breathable, water resistant, non-abrasive and mildew and dry rot resistant. Ranging from 5th wheel trailer covers to truck covers, we even can customize you that cover for your special needs. All our covers are made to the exact fit and size of your trailer, so make sure to measure your dimensions and know the exact type of trailer you possess. We even provide you with a custom zipper door for easy access.
Feel free to browse our website on what each cover has to offer you.