Fabric Stress Reinforcement (FSR)
FSR®- Fabric Stress Reinforcement
FSR is the long term solution for a long life cover.
FSR is a 2" wide, 1000 pound test webbing sewn on the inside of the roof.
FSR provides the necessary support to the fabric to offset the added weight caused by wind, rain, snow, ice and gravity. It also helps support the continual weight of the side fabric.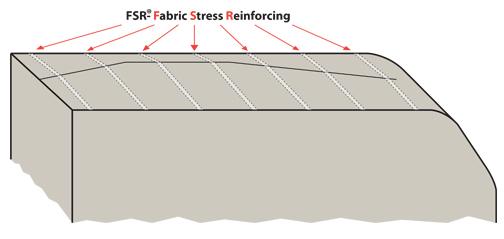 FEW CHOICES – ONE SOLUTION
The Choice is Clear:
CalMark RV Covers with FSR Exclusive Roof Construction (Fabric Stess Reinforcement) is the Solution for Long-Term Outdoor Protection for your RV.
All CalMark RV covers are breathable, water resistant, non-abrasive and mold/mildew resistant.
All CalMark Covers Include:
1 Zipper Door
6 Year Warranty
FSR (Fabric Stess Reinforcement)
All CalMark Covers are:
Sunbrella® – wover acrylic fabric
100% USA Made
High UV Rating
Breathable
Water Resistant
Non Abrasive
Mild and Mold Resistant
To order call 1-800-838-7236 or or request a FastQuote!