Travel Trailer Cover
Selecting the Best Travel Trailer Cover
It's the start of a New Year and your starting to plan your travel trailer trips! As you open the door to your Travel Trailer, your life flashes before your eyes and your chest starts to tighten up. The inside of your travel trailer is a a disaster! Leaves are everywhere, bugs and spiders are crawling on every space, and even a raccoon has built a nest in your new leather seats.
A high-quality Travel Trailer Cover can save you thousands of dollars in damage, and is vital, even if your Travel Trailer stays in a garage.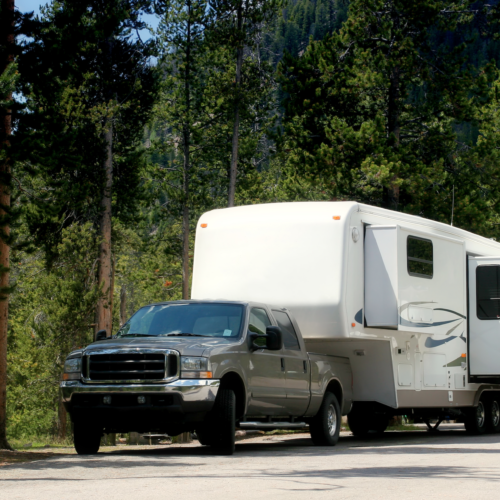 There are 2 main reasons to invest in a Travel Trailer Cover:
1. A Travel Trailer Cover is used to keep the bugs, spiders and other pest out.
2. UV degradation is the number one cause of loss of value. It destroys everything in its path, and we aren't just talking about a faded paint job. The paint protects the metal and plastic underneath, so if the paint is compromised, the underlying surfaces most likely are, too. Fiberglass also oxidizes, due to UV exposure, as does rubber (making it look chalky and old).
A Travel Trailer Cover is generally made from polypropylene or polyester. Varying methods of tripling-of-the-layers are used over the roof, for extra protection. The fabrics are treated with water or UV repellant. They are also able to breathe, so that moisture can evaporate and doesn't get caught under the cover, where it can trap mildew.
A custom Travel Trailer Cover has a tighter fit, and feature vents to prevent billowing. The cover is usually secured in place beneath the travel trailer, with some covers having zips to allow access to the door. The better the quality, the lighter the cover will be, making it easier to handle. Custom covers are more expensive, but they provide better protection than universal fit covers.
You need to consider certain elements before purchasing a Travel Trailer Cover
Type
Look at covers for your type of travel trailer. The cover for a rv is very different from that of a travel trailer. Thats why CalMark Covers make all covers custom to your specific Travel Trailer.
Size
The correct size of cover will fit snugly over your travel trailer. Measure your travel trailer first, then go contact CalMark Covers for a FREE Fast Quote. A larger cover than the size of your travel trailer will be loose.
Material
The material you pick for your cover should be the best. Thats why CalMark Covers uses Sunbrella Fabrics. Sunbrella is a leader in performance fabrics for a custom Travel Trailer Cover.